---
Document:
Rediscovering Computational Autopoiesis
---
8.4 Run 2-4
8 Experiment 2
8.2 Run 2-2
---
In this run there are two very early ruptures (times 6 and 13), before there has been time for an effective build up in the concentration of free L particles. The K particle almost escapes immediately, but, instead, an extension of the membrane forms around it. There is a further independent rupture at time 139, but at time 148 a closed membrane reforms with the new morphology shown in figure 13
Figure 13: Experiment 2, Run 3, Time 148.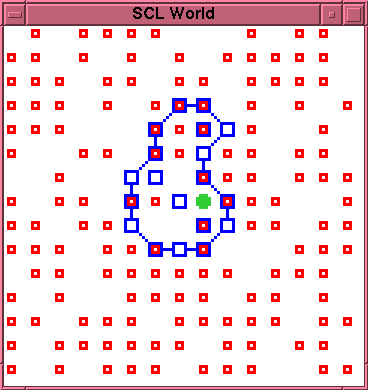 A further rupture at time 171 results again in an inward spiral and it is then no longer possible to recover a closed membrane through any simple process of self repair.
---
8.4 Run 2-4
8 Experiment 2
8.2 Run 2-2
---
Document:
Rediscovering Computational Autopoiesis
---
Copyright © 1997 All Rights Reserved.
Timestamp: Tue Apr 22 22:10:03 GMT 1997

mcmullin@eeng.dcu.ie