---
Document:
SCL: An Artificial Chemistry in Swarm
---
5.2 ParameterManager Window
5 Using SCL
5 Using SCL
---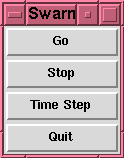 This is the standard Swarm control panel window. It provides buttons to start the simulation (Go), stop it (Stop), single step (Timestep) and terminate the simulation (Quit). The buttons for controlling execution of the simulation will, of course, operate only while a simulation model, or world, exists. The tools for creating and manipulating these world models will be described separately below. This window is not generated as a probeDisplay on some object, but is rather generated automatically as a standard feature of Swarm.
---
5.2 ParameterManager Window
5 Using SCL
5 Using SCL
---
Document:
SCL: An Artificial Chemistry in Swarm
---
Copyright © 1997 All Rights Reserved.
Timestamp: Tue Dec 31 19:40:38 GMT 1996

mcmullin@eeng.dcu.ie