Preliminary Steps toward
Artificial Protocell Computation
DCU Alife Lab:

Ciarán Kelly
Darragh O'Brien
George G. Mitchell
James Decraene

Financial support under EU FP6 Integrated Project PACE
Contract number: 002035
Metabolism
Containment (membrane)
Information (heredity?)
It

might

be at the (proto)-cell level:

Cell cycle control
Chemotaxis
(Differentiation? Apoptosis?)
...

It

might

be at the multi-(proto)-cell level:

Nervous system
Immune system
...
We will concentrate on the single (proto-)cell level.
Examples?

Cell signalling networks, CSN
Genetic regulatory networks, GRN (beyond protocells?)

Molecular Information Processing:

Operators: catalysts/enzymes
Operands: substrates, reactants
Real time
Reaction

network

-- somewhat like term re-writing system (but no demarcation between rules and messages)
Reaction network ``closure'' matters (why?)

Protocell as encapsulated ``replicator world''?

Concentration matters (as does stoichiometry, thermodynamics, kinetics, catalysis ...)
Evolution
At the

protocell

level
Layered on ``replicator'' dynamics at the molecular level
(AKA ``major transition'')
Work with an ``artificial chemistry''
Polymer family composed of two categories of monomer: labelled 0 and 1 (primary structure is binary string)
No thermodynamics (!)
No material conservation (!!)
Why does dominant string not take over whole population?
What is the composition of the rest of the population?
Why does peak dominant population get progressively smaller?
(... obviously there is some stuff that has not been explained yet!)
In this particular ``flow reactor'' system,

longevity

and

fecundity

are exactly, inversely, coupled, so no evolutionary scope there.
So: that leaves

fidelity

-- doesn't it?
(Think of this as a simple ``experimental control'' or ``sanity check''.)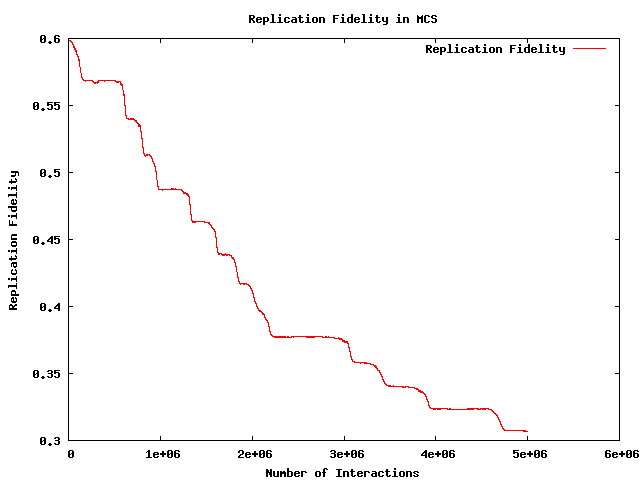 Only difference in ``intrinsic'' fitness of the different replicator species is in ``fidelity'' - and this shows a progressive, quasi-deterministic,

decay

.
Along with this goes reducing concentration of dominant species (increased mutational load) and consequently reducing fecundity (albeit with exactly inversely increasing longevity).
Long term outcome is total distintegration of the original organisation (progressive - no ``threshold'' effect).
But this is happens through a sequence of ``short term'' events, each showing perfectly ``darwinian'' selection!?
Enzymatic ``binding rule'' is ``exact substring match'' (Aaahhhh ...)
So a ``super-string'' will immediately parasitise any host sub-string which was previously dominant (think ``hyperline'' rather than ``hypercycle''!); and will quickly displace it completely.
All the ``selectional'' events in this particular model are of this nature: the huge ``parasitic'' gain easily outweighs each slight, incremental, decrement in fidelity (reducing intrinsic fitness).
Playing games,

not

climbing mountains (improbable or otherwise!).
Bimolecular, ``self-catalysed'', replication has hyperbolic growth rate.
Implies density-dependent selection with positive feedback.
Result is ``survival of the common'': invasion is extremely difficult - even by rivals with much higher intrinsic fitness.

Very

different from classical ``auto-replication'' (mediated by an externally buffered replicase) with exponential growth rate and yielding straightforward Darwinian selection.
But that's a different story ...
``Yes, it's a little counter-intuitive ...
... but it's really just a very

very

contrived and peculiar toy system, with no wider ramifications!''
I may not have gone where I intended to go, but I think I have ended up where I needed to be.

-- Dirk Gently
Presentation slides:

DCU Alife Laboratory:

Research Institute for Networks and Communications Engineering (RINCE):

Copyright
This work is copyright ©2007 by Barry McMullin.
Permission is hereby granted to private individuals to access, copy and distribute this work, for purposes of private study only, provided that the distribution is complete and unmodified, is accompanied by this copyright notice, and that no charges are levied. The work may not be accessed or copied, in whole or in part, for commercial purposes, except with the prior written permission of the author.
All other rights reserved.
---
Copyright © 2007 All Rights Reserved.
Timestamp: 2007-03-26

Barry.McMullin@dcu.ie